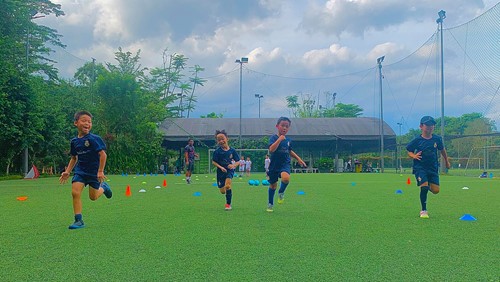 Due to the rapidly evolving Covid-19 situation, with effect from 19 May 2021, as permitted by regulations, Real Madrid Foundation Football School (RMFSS) current daily training will take the form of 1 to 1 training sessions. 
Despite these restrictions, our priority is to ensure a SAFE yet value adding training for all RMFFS students. We understand it is also essential to keep our children ACTIVE and HEALTHY during this trying period. 
Please fill in this form to register your child for our individual training sessions. Do note that slots available are limited and will be allocated on a first come first serve basis. Each training session will last 45 minutes. Students will be allowed to train with MASKS OFF, while coaches will keep their MASKS ON. 
A) Rainforest (2 Turf Club Road along Bukit Timah)
Tuesdays to Saturdays, 4pm, 5pm and 6pm
Sundays 8am, 9am and 10am
B) The Yards@Joo Chiat (406 Joo Chiat Place)
Saturdays 8.30am, 9.30am, 10.30am
Package: $220+gst for 4 sessions and 1 set of Real Madrid Training Kit
(Fitting for kit to be done on first session)