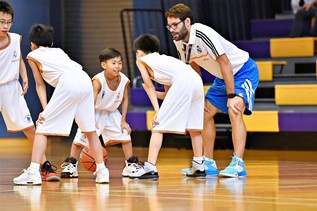 (Girls only option available)
Click Here to Sign Up for Trial
The Real Madrid Foundation Basketball School in Singapore is the first-of-its-kind basketball school that is part of the Real Madrid Foundation, the social responsibility arm of the Real Madrid Football Club. The basketball school was established in 2023 with the aim of promoting the values of sport, education, and social integration through basketball.

We offer a high-quality basketball program for toddlers, children and youths. The program is designed to develop basketball skills, teamwork, discipline, and leadership qualities, while also promoting personal growth as a human being.
The Real Madrid Foundation Basketball School has a team of experienced and qualified coaches who provide personalised training to each player, and the school will also be looking to organise tournaments, camps, and international exchanges to provide opportunities for our players to showcase their skills.

With its commitment to excellence both on and off the court, the Real Madrid Foundation Basketball School aims to be the basketball school of choice amongst parents and educators both in Singapore and in the region.
Real Madrid's Basketball Team, though not as well-known as its football counterpart, enjoys a legacy that is just as illustrious. It shares the accolade of winning the most European and the most Spanish championship titles. Spain is currently first in the FIBA World Ranking, overtaking the USA since 2022.