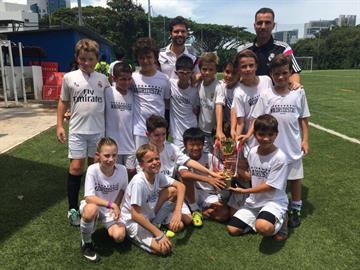 Many of our players are part of our academy by enrolling into our competitive teams. Training twice a week and committing to the full season, those players appreciate how joyful that football experience can be.
Are you up for the challenge? Come and join us for any of the free try-out sessions below. Some of the teams are filling up soon so do not miss your opportunity.
 Our offer
Twice a week (Tu/Th or W/F) team training sessions for the entire season with a selected group of dedicated players
A full season goal based curriculum designed for each specific age group
Bi-annual full assessment report
What we expect from the player/parents
The commitment to train with the team on the two designated days and be part of the team for the entire season
Observance of a code of conduct
Unlimited willingness to enjoy and learn
Fees and payment plan
Our fees cover all training sessions and associated costs The fees for the entire season (17 Aug 2016 to 23 June 2017) are $2,631 for 86 training sessions,. Payment plan:
May (20%): $527
1 August (40%): $1,052
1 Dec (40%): $1,052
The training kit (RMFTA) is included in the fees.