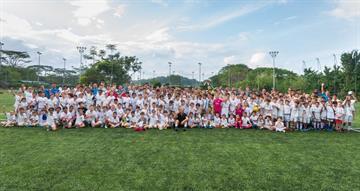 -------------------------------------------------------------
!Opportunity of a Lifetime!
-------------------------------------------------------------
In this inaugurating edition of an exciting tournament, 32 teams and over 400 players from around the world will gather to demonstrate football's most prominent winning methodology.
Players from every corner of the globe will occupy the exceptional facilities for Real Madrid's first team, Ciudad Deportiva Real Madrid, Valdebebas in Madrid, Spain from April 10th to April 15th 2022 (Easter Holiday Week).
Participants will be competing against other Real Madrid Foundation teams in the hopes of becoming RMF World Champions! Age categories will be U10, U12 and U14 and match format of 7v7. Following the footsteps of the world's best, players will live a week filled with football amongst international players and demonstrate the Real Madrid values.
All participating players will be exclusively selected from the Real Madrid Foundation Football School in Singapore.
Be one of exclusive few in the world to compete where Real Madrid First Team trains in Spain. Scouting for

elite players born in 2008 to 2013

 to represent Real Madrid Foundation Football School in Singapore.
Only shortlisted players will be contacted to attend a trial. Very limited slots!
Follow or like us on our social media platforms, assessible at the top and bottom of webpage, for updates!
Any questions? Click here to WhatsApp Us on your mobile WhatsApp or WhatsApp Web!