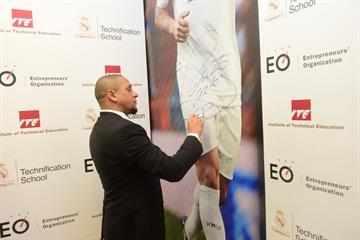 Real Madrid Foundation Technification School is proud to announce a new partnership with Entrepreneurs´Organization (EO) in Singapore. The collaboration between both organizations has been designed to achieve different objectives and goals under the umbrella to use sport, and football in particular, as a vehicle and platform to:
- Increase the network and collaboration possibilities between Singapore and Spain with the support of the Spanish Embassy, Tourism of Spain and the Commercial Office of Spain in Singapore.
- Education using sport as a learning platform for continuous development and exploring opportunities to transfer the high performance challenges and lessons from a high demanding and competitive environment of sport to the entrepreneurs ecosystem. Inside this educational component of the partnership there are two events to be held: a symposium in Singapore and a learning trip to Madrid to watch Real Madrid match live, get to know more about the leading sport organization in the world and Spain as a vibrant entrepreneurial country.-
- Sport events in Singapore: with friendly matches organized by the Real Madrid Foundation Technification School pro team, the EO committee and other organizations as a platform for Public Relations
- Corporate Social Responsibility: thanks to the EO contribution, 10 young players in Singapore will enjoy a full season scholarship to train two times per week at the School in Singapore. The RMFTS team is working with ITE College Central in the players' selection process and the key goals to be achieved for the selected players, Focus will be placed on on values, sport performance but also performance in studies with the vision to use football as a vehicle to contribute on the students' integral development, both as a football players and as a human beings
On 13th of February, the same day than Real Madrid legend and ambassador Roberto Carlos da Silva visited Singapore, the collaboration was announced with the presence of his Excellency Miguel Ángel Navarro, Ambassador of Spain in Singapore, ITE College Central Management and local football legend Fandi Ahmad during the celebration of the "Values through Sport day" at ITE College Central.