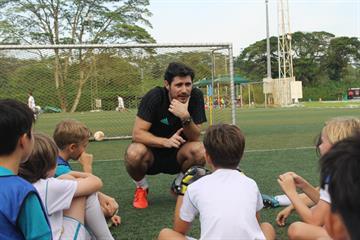 Every time our football school welcome a Real Madrid legend in Singapore is a great new for our team and players. But if our players can enjoy a complete training session, receive feedback and also some important advices...this privilege goes to other level.
In this case, the advice provided by Victor is related with School. The best players are the most intelligent ones and this is what a good football player is doing all the time: thinking. Thinking about oponents, own team, best possibility to control, pass or help the team coordinated in the structure...and this intelligence is not only trained in the Football School. 
In the normal school, it is also trained and it is very important to be focused on studies because it will train players´intelligence and will develop some important values such as effort, discipline and self control.