Spanish World
Leading Language Group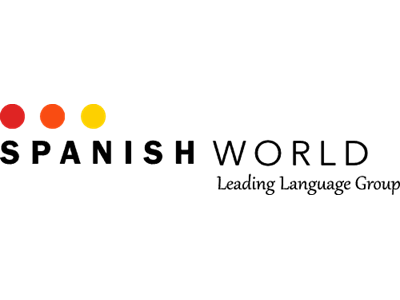 Spanish World Singapore is the only official DELE examination centre in Singapore with Cervantes Institute Quality Seal.
It is our mission to bring this rich and enticing world of Spanish to people in Asia, so through the language, students can connect to and be part of the Spanish speaking world. 
Exactly how does Spanish World achieve this?
1. CREDENTIALS
Spanish world (former Las Lilas) has been operating in Singapore since 2005. We were the first Spanish language school established in Singapore and focus exclusively on teaching Spanish language and culture. In December 2007, Spanish World was certified as the first accredited centre of the Cervantes Institute in Southeast Asia, and remains the only accredited centre in the region till date. Our school in Hong Kong is also the only one in Greater China with the Cervantes Quality Seal, and both of them are the 2 biggest in the region. 
Spanish World Singapore is the flagship centre of Spanish World Group, that also owns another 2 schools, in Kuala Lumpur and Hong Kong, with a total of 2,000 students weekly.
Our school in Hong Kong is also the only one in Greater China with the Cervantes Quality Seal. Our schools in Singapore and Hong Kong are also the 2 biggest in the region.
2. Qualified teachers
At Spanish World all teachers are qualified and experienced professionals, in addition to all being native from Spanish speaking countries.
Our team, at Spanish World Group, consists of over 40 teachers from different countries of the Spanish speaking world, all of them experts in the study and pedagogy of the Spanish Language. We hire only people with outstanding curriculums and academic backgrounds, deep knowledge
of the Spanish language and strict professional ethics. We value our teachers for their
capacity to communicate, ability to connect with the students and natural sympathy, all
of them key inside the classroom. This is backed up by another 12 – 14 administration
personnel, only devoted to facilitate live for our clients, with a constant smile on their
face.
3. Consistent and progressive learning programmes
Spanish World has developed a continuing set of programmes, one building upon the
other. Clear progress between Playgroup (Age 2 -5), Kids (Age 6-9) and Teens (Age
10-17). Our courses are tailored to all levels, beginners to native speakers, and also
specific exam oriented like IGCSE or IB, as well as DELE.
4. Spanish Language takes Centre Stage:
Spanish World believes in a communicative approach to the learning of the language.
This means not only Spanish will be used most of the time in class, but that students
will be constantly encouraged to intervene in the discussion. Nevertheless, no
methodology is perfect and flexibility and adaptation to the students' characteristics is
always necessary. We believe we reached that equilibrium for Asian students.
We use technology inside the classroom, for a more dynamic experience, and outside
the classroom, to enable students to practice by themselves on a more profound
learning journey. All our Kids program blends with digital back up content, in our own
Virtual Campus.
5. Small Class
Playgroup: 4 to 6 students
Kids: 4 to 8 students
Teen: 4 to 8 students
Adults: 4 to 14 students
6. Flexible Admin Process
We treat all out students individually, hence we offer a client oriented admin process.
We have the capacity to deal individually with regards student needs, capacity to
respond quickly and efficiently when communication is needed. Capacity to advice and
counsel students. From management to admin, and all our teachers, are always
available at the student request.