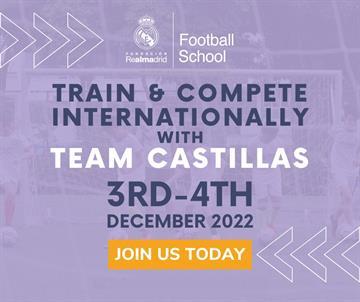 SSCA is back to compete internationally, starting off with an upcoming overseas 
tournament in December 2022
. Teams at SSCA trains under the Real Madrid Foundation Football School in Singapore.
It will be held for one weekend (3rd & 4th December 2022) and we are looking to send 2 teams, U11 and U15, to represent us at this International Tournament expected to be held at Bangkok's National Training Centre
! 🏆
Depart Singapore on afternoon of Friday 2nd December 2022
Tournament on Saturday & Sunday 
3rd & 4th December 2022 (expecting 7 matches)
Depart Bangkok on evening of Sunday 4th December 2022
The estimated budget will be $2,500 per player and guardian. And, this include air tickets,
accommodation, most meals, local transport and competition fees.
The weekend training program for U11 & U15 Team Castilla will be held in different venues.
1) U15 (age 14 & 15) Serangoon Gardens - Sundays 9-11am
2) U11 (age 10 and 11) Turf Club Bukit Timah - Saturday 5-7pm 
Find out more about the tournament by contacting us 9176 1870 (WhatsApp activated) or info@frmsingapore.com.
*Do note that separate forms should be submitted for each player.