The Anderson Secondary field is within walking distance from ITE College Central and is situated along Ang Mo Kio Avenue 5, immediately after HDB Block 538 (when travelling in the direction awayfrom the CTE).
Unlike the previous training locations, access to this pitch is via an access gate located in the public carpark opposite Blocks 533 and 535 of Ang Mo Kio Avenue 5. Please do not attempt to reach the field via the main entrance of Anderson Secondary.
Please refer to the following basic map and the instructions below for our recommended way to the field (please select the "download pictures" option in your email client to ensure you can see the diagram):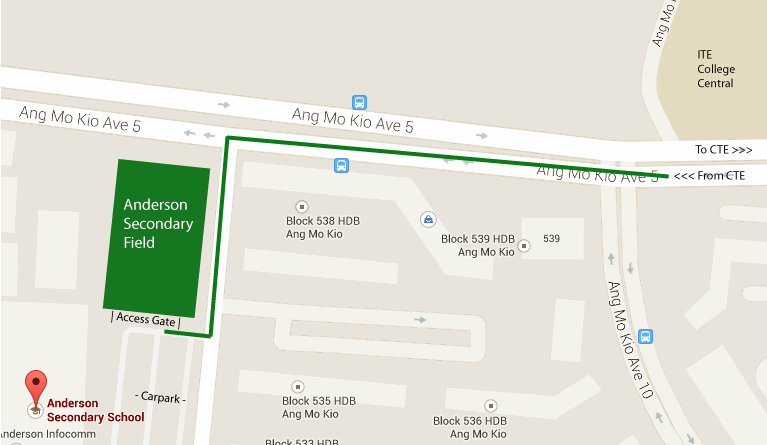 Driving on Ang Mo Kio Ave 5 in the direction away from the CTE (opposite ITE College Central), make a left turn at Block 538 Ang Mo Kio Ave 5 (there is a blue sign directing towards Blocks 520-539). This is the path marked out in green in the basic map above.You will see the field at the turning point.
At Block 535 Ang Mo Kio Ave 5, make a right turn into the carpark. This will be the first right turn entrance into the carpark that you will find.
Enter the field by foot via the Access Gate.
While the facility has a nice artificial turf pitch to train on, it is low on the amenities that we are used to at ITE College Central. Therefore, please take note of the following:
We would encourage everybody to bring along sufficient water for the entire training session, as there are no vending machines available
There are toilet facilities at the field but these are very basic
There are some benches available but there may not be sufficient seating for everybody