Our Football School provides a nurturing platform for young players to develop their abilities and passion for football while having fun and cultivating their social skills. The same platform support competitive players to sharpen their skills in a nurturing environment that stimulates team and personal excellence.
Two differentiated programs (Team Training and Technical training) are offered to accommodate to your time availability, previous experience, ability level and time you want to dedicate to football.
Training sessions are conducted on evenings on weekdays, both morning & evenings on Saturdays, and mornings on Sundays. 
Technical Training Programme
Are you a beginner OR Want to enjoy football?

Do you want to have a regular physical activity? Do you have availability on weekdays evenings or weekends?
Are you a football lover without prior experience?
Join our daily sessions. While having fun is central, our coaches apply our methodology to ensure physical, technical, tactical and psychological goals are achieved.
TEAM Training Programme
Are you a dedicated footballer?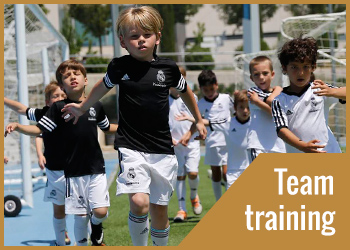 Train at least twice a week (weekdays), commit for the entire season and be part of a group of players to whom the coach will lead to achieve annual goals. Team players are offered match opportunities.
We have teams for players born 2015 to 2005.
Players born in 2013 to 2008 may also qualify for the Real Madrid Foundation World Challenge to be held in Madrid in April 2022.
AGE GROUPS

Players are grouped primarily by age while certain participants may be invited to play up.
Age groups applicable from 1st August 2021 are:
 

Available for

Age group

Years of birth

Team Training Programme

Technical Training Programme

U6/U7

2016, 2015 and 2014

yes

yes

U8/U9

2013 and 2012

yes

yes

U10/U11

2010 and 2011

yes

yes

U12/U13

2009 and 2008

yes

yes

U14/U15

2007 and 2006

yes

yes

U16

2005

 

yes
Request a tryout with us today!