The successful month long Values League has officially resumed from April!
Prepare to resume to competitive gameplay.
Suitable for beginners, intermediate and competitive players
Develop individual's character using our leaderboard point system 
Stand a chance to be part of Team Benzema, Team Kroos & Team Vinicius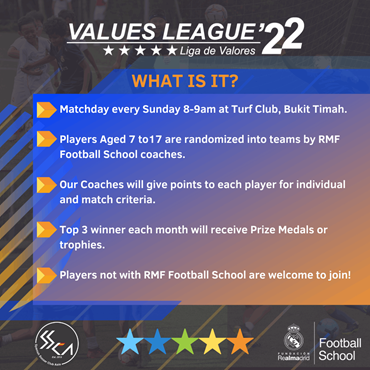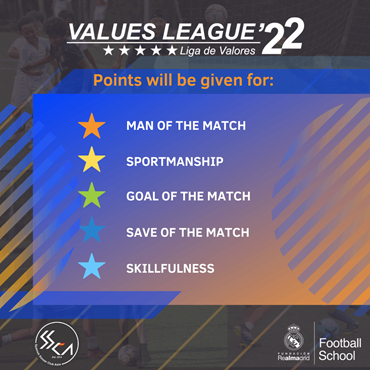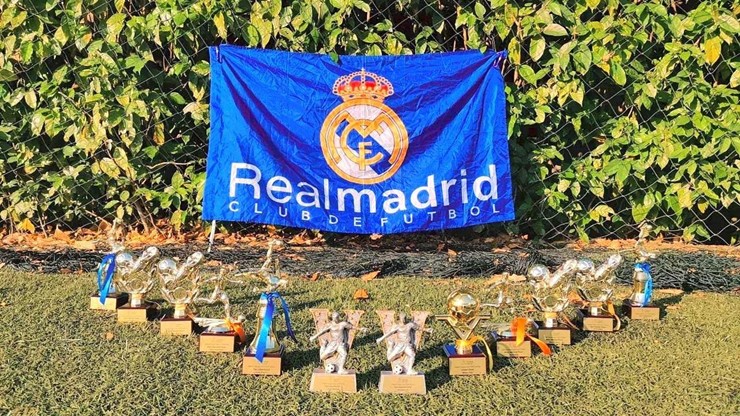 Week 4 Leaderboard
Matchday 4 for the Values League concluded last Sunday! It was another hot morning as the players enjoyed another competitive matchday in Singapore. The top 3 on the leaderboard is really close currently with Jack, Rocco and Maxime just 1 and 2 points apart! The values league is all about players learning to play football while displaying the values of a sports person as taught by the coaches of the Real Madrid Foundation football school.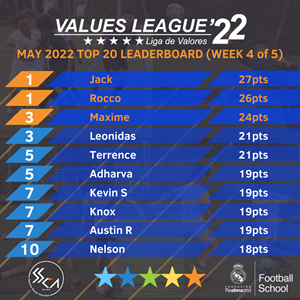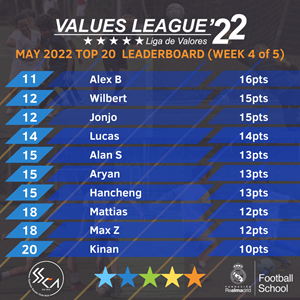 🏆🏆🏆Congratulations to the winners of the April Values League and special awards 🏅🏅🏅 that played their hearts out on the field while displaying the good values of a footballer in April! 💪💪💪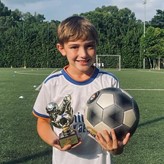 We are also excited to welcome you to the May edition of our Values League Matchdays, happening on Sundays 8-9am! For the month of May, and to introduce the value of the month… R-E-S-P-E-C-T!
What is respect and how do I show it on the field? 
Respect is showing consideration and deference for each other - including coaches, match officials, teammates and opponents.  
Starting May, players 7 years old and above are welcome to join! There are limited slots and are given on a first come first serve basis. Looking forward to seeing you! 😊 Do PM us if you need more info too!